Development of a Tool for Measuring Ecocentrism as an Outcome of Environmental Communication
Keywords:
Environmental communication, Environmental education, Ecocentrism, Ecocentric-driven, Philippines
Abstract
Recent developments in Environmental Communication furthered the importance of tool development to measure practice with ecocentric orientation. This research aimed to develop a tool that can measure the level of ecocentrism. This research employed a descriptive research design, and a survey was used as the primary data gathering method. The ecocentric-driven environmental communication tool has undergone four phases: the development of indicators, generation of reliability evidence, and determination of limitations, and refinement of tool. The tool was administered to 225 fourth-year college students of De La Salle University-Dasmariñas (DLSU-D), a higher education institution that explicitly integrated ecocentrism in its curriculum. Mean, percentage, and frequency count were used to analyze the socio-demographic and environmental communication. Chi-square Likelihood Ratio was also used to analyze the relationship between environmental communication and ecocentrism. The novel output of this research was the identification of aspects of ecocentrism, namely, impacts of human activities on the environment, environmental awareness, sustainable practices, environmental stewardship, collective action, and compliance with environmental laws. The research was able to develop probing items for each aspect. It was recommended that the probing items be developed based on the specific environmental contexts.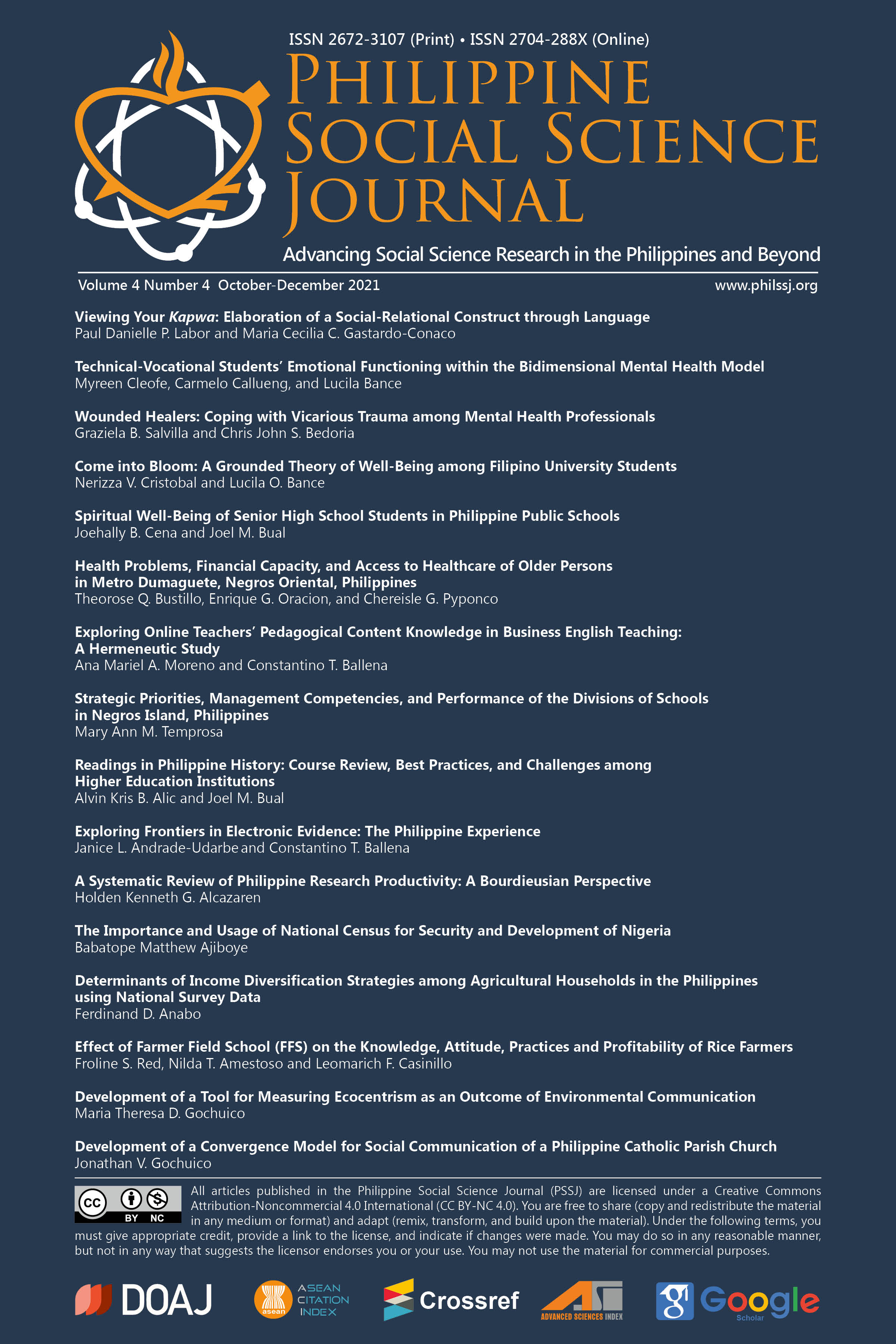 How to Cite
Gochuico, M. T. D. (2021). Development of a Tool for Measuring Ecocentrism as an Outcome of Environmental Communication . Philippine Social Science Journal, 4(4), 155-165. https://doi.org/10.52006/main.v4i4.408