Developing Livelihood Resilience through Adaptive Strategies and Government Interventions during the COVID-19 Pandemic: A Case Study on the Small-Scale Fishermen in Tacloban City, Philippines
Keywords:
Political ecology, Livelihood resiliency, COVID-19 pandemic, Case study, Tacloban City
Abstract
With the onset of the pandemic, small-scale fishermen (SSF) in the country have become even more vulnerable to multiple adverse stressors. It is important to remember that fisher households have minimal assets, and their ability to mitigate the effects of crises and shocks is restricted. This study aims to enhance our understanding of livelihoods by using the idea of resilience as an analytical tool in examining the different aspects of fisherfolks' adaptive systems during the pandemic and the role of the government in bolstering their livelihood resiliency. This qualitative study utilized a multimethod case study design, and for the data analysis, I utilized Clarke and Braun's six phases of thematic analysis. Four major themes were uncovered in the study: assets and livelihood resiliency; livelihood challenges and stressors in the pandemic; SSF with adaptive strategies vs. without adaptive strategies; and Government's role in SSF livelihood resiliency. The study produced findings on resiliency and adaptive strategies pertaining to livelihoods in the context of a pandemic. The study found that SSF who diversified during the pandemic were more robust in their livelihood than SSF who did not have any adaptation techniques applied during the pandemic.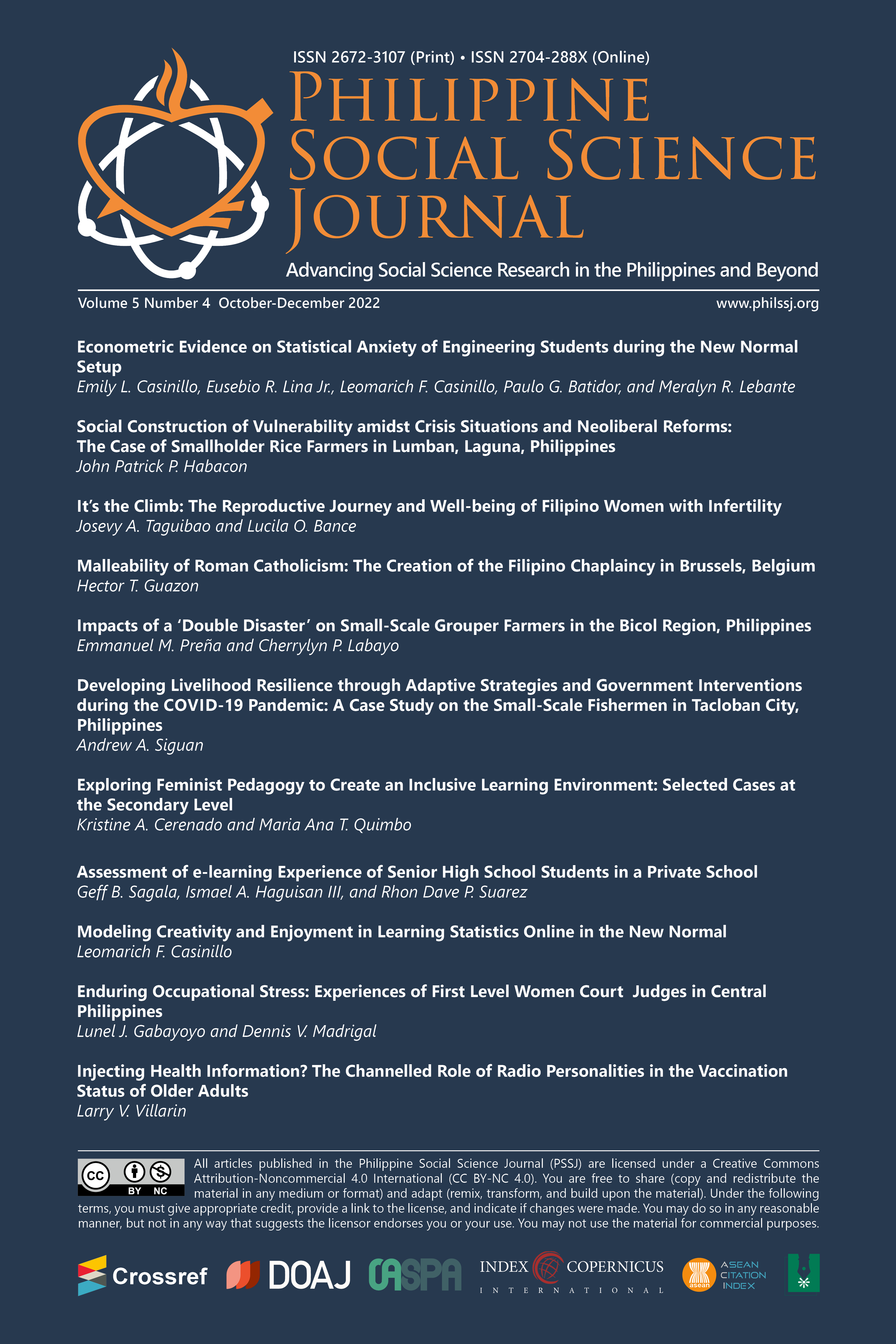 How to Cite
Siguan, A. A. (2022). Developing Livelihood Resilience through Adaptive Strategies and Government Interventions during the COVID-19 Pandemic: A Case Study on the Small-Scale Fishermen in Tacloban City, Philippines. Philippine Social Science Journal, 5(4), 68-80. https://doi.org/10.52006/main.v5i4.603