Pakikipagkapwa: Pathways in Developing Civic Engagement among Student Leaders
Keywords:
Civic engagement, Student leaders, Leadership, Photo-elicitation, Framework analysis
Abstract
The realm of academe has a vital role in civic engagement development among student leaders. The study aimed to analyze the perceived routes and attributes in developing civic engagement among nine former college student leaders from a CICM school recruited using purposive sampling. The study employed a qualitative research design. Online photo-elicitation interview with auto-driving was the main data measure. Participants were asked to take photos that best capture the pathways in molding civic engagement. Framework analysis and establishment of trustworthiness were employed for analysis and validation. Pathways are inculcation of values, spirited involvement in extra-curricular activities, embarking with a sense of purpose, character and interpersonal skills building, and rooted in chosen discipline or course. Moreover, the facilitative attributes are authentic social interest, pivotal core values, experiential learning space, and a supportive academic ecosystem. The pakikipagkapwa and civic engagement shared a common ground that the community is hindi ibang tao. Consequently, the synergy between routes and characteristics of the school molds civic engagement among the participants. It is suggested to strengthen its leadership training by including necessary characteristics or traits related to civic-mindedness and interpersonal skills.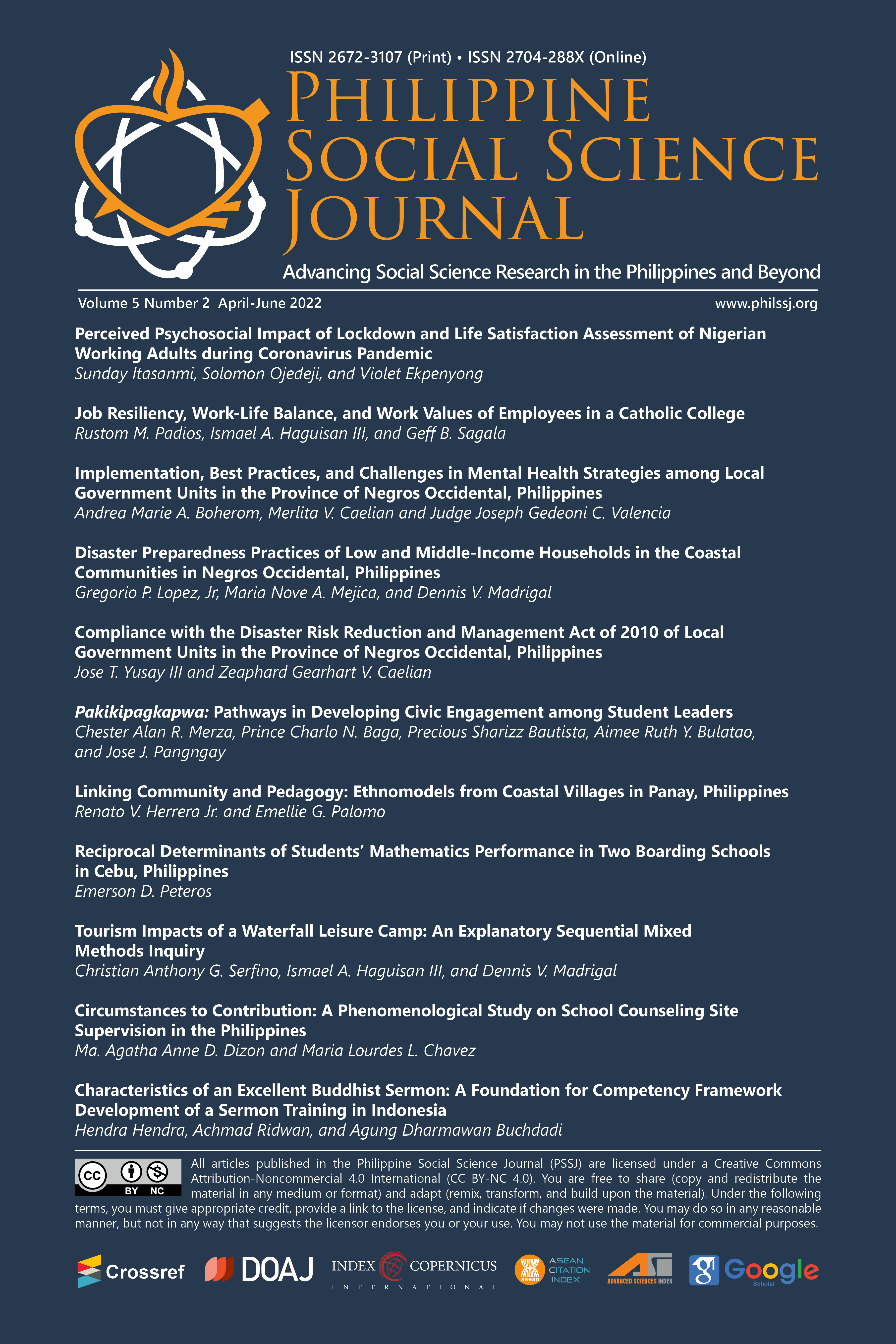 How to Cite
Merza, C. A., Baga, P. C. N., Bautista, P. S., Bulatao, A. R. Y., & Pangngay, J. J. (2022). Pakikipagkapwa: Pathways in Developing Civic Engagement among Student Leaders. Philippine Social Science Journal, 5(2), 61-72. https://doi.org/10.52006/main.v5i2.487