Disaster Preparedness Practices of Low and Middle-Income Households in the Coastal Communities in Negros Occidental, Philippines
Keywords:
Disaster preparedness, Low and middle-income households, Coastal communities, Descriptive-comparative, Negros Occidental, Philippines
Abstract
Disaster preparedness has played a vital role in mitigating disaster risks. A well-planned disaster risk reduction program is effective in minimizing hazards and casualties. The study determined the extent of disaster preparedness practices of households in the coastal communities of a congressional district in the Philippines, particularly on typhoons, in terms of disaster preparedness literacy, participation in community disaster preparedness, and disaster preparedness on supplies and kit contents. A descriptive-comparative research design was used to administer a researcher-made survey instrument to 341 coastal household members. Statistical techniques such as Kolmogorov Smirnov, Mann Whitney U test, Kruskal Wallis, Mean, and Standard Deviation were used in the study. The findings revealed a great extent of disaster preparedness practices with significant differences when respondents were grouped according to household income and educational attainment of the household members. However, there were no significant differences when grouped according to household size, type of housing unit, and type of housing structure. Household income is very minimal in purchasing food/kit supplies was identified as the most significant challenge experienced by the households. The study recommends an enhanced Barangay Disaster Risk Reduction Management (BDRRM) Plan to strengthen the programs, projects, and activities to increase the adaptive capacity and involvement of households toward disaster preparedness.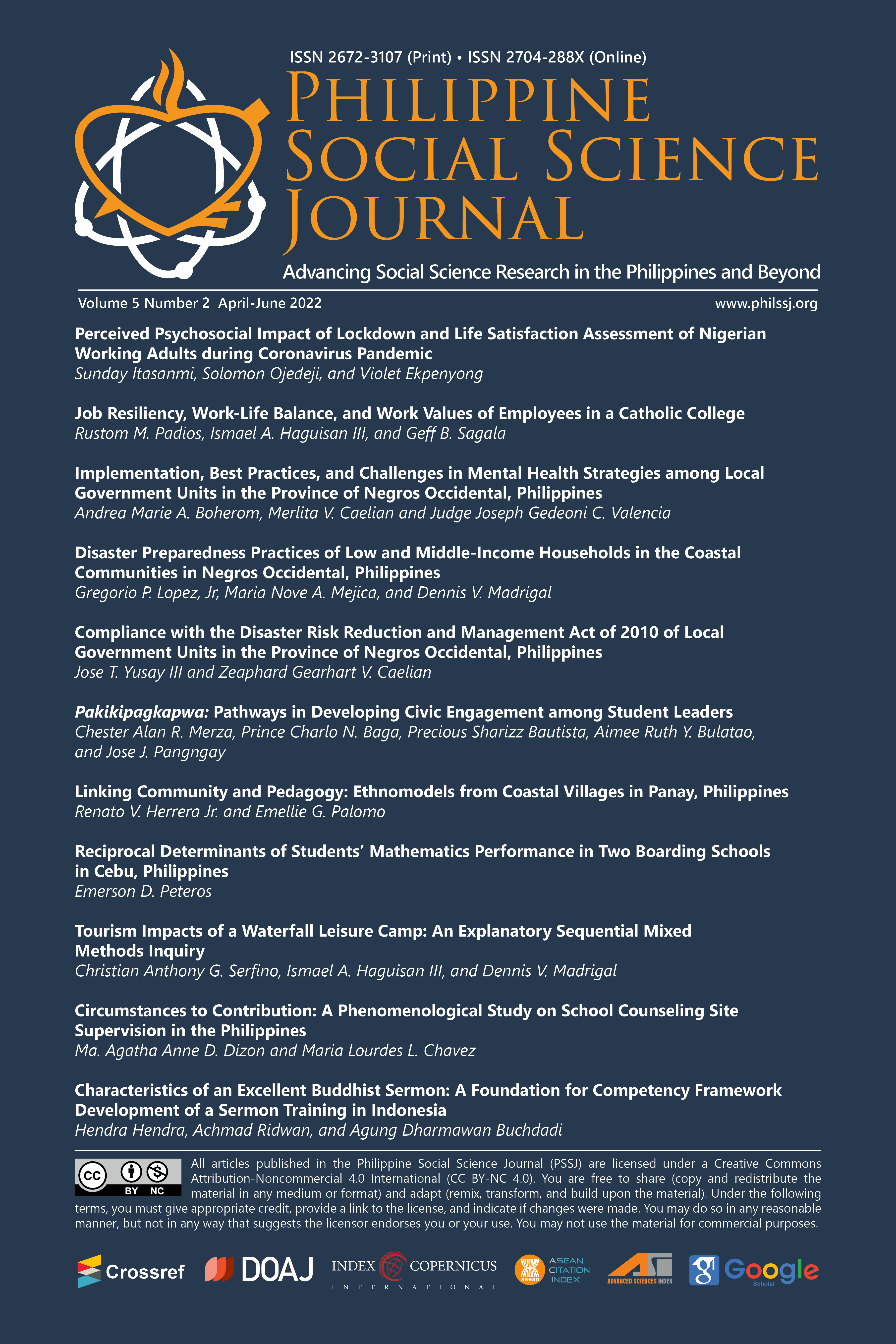 How to Cite
Lopez Jr., G. P., Mejica, M. N. A., & Madrigal, D. V. (2022). Disaster Preparedness Practices of Low and Middle-Income Households in the Coastal Communities in Negros Occidental, Philippines. Philippine Social Science Journal, 5(2), 40-50. https://doi.org/10.52006/main.v5i2.495